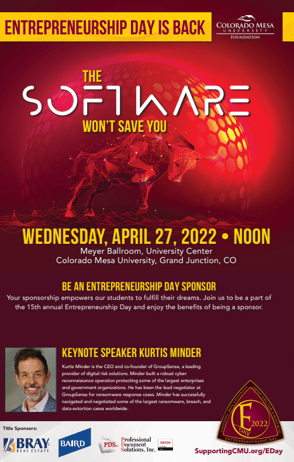 Entrepreneurship Day is back at Colorado Mesa University. Join GroupSense CEO, Kurtis Minder, as he gives the keynote on Wednesday, April 27th, 2022.
Kurtis will present his keynote on theme of "The Software Won't Save You". Register to save your seat >
Entrepreneurship Day (E-Day)
Colorado Mesa University hosts an annual Entrepreneurship Day. Co-sponsored by the Davis School of Business and the Foundation, the event features a keynote speaker who is an innovative leader in their field. E-Day also features breakout sessions highlighting local entrepreneurs and professionals, tying classroom theory to real-world experience. All sessions are free and open to the public. Learn more >
About Colorado Mesa University
Founded in 1925, Colorado Mesa University is a comprehensive regional public higher education institution offering liberal arts, professional, and technical programs at the master's, bachelor's, associate and certificate levels.

At Colorado Mesa, they take great pride in providing educational opportunities and tools that help students succeed in today's complex and interconnected world. Their focus is on providing quality academic programs, built on a strong liberal arts core that support students' interests and regional employment needs, as well as technical programs that respond to vocational workforce demands.
---
About Kurtis Minder, CEO at GroupSense

Kurtis Minder is the CEO and co-founder of GroupSense, a leading provider in Digital Risk solutions. Kurtis built a robust cyber reconnaissance operation protecting some of the largest enterprises and government organizations.
Kurtis has been the lead negotiator at GroupSense for ransomware response cases. He has successfully navigated and negotiated some of the largest ransomware, breach, and data extortion cases world-wide.
With over 20 years in the information security industry, Kurtis brings a unique blend of technical, sales and executive acumen.