GroupSense CEO Kurtis Minder was featured on Episode 14 of the Forgotten Art Project Podcast. During the episode, Kurtis and host David Weaver discuss Kurtis's journey in entrepreneurship, how and why he got into the work he is doing, along with how GroupSense's company culture, values & leadership shaped who he is today.
In its third season, the Forgotten Art Project podcast, host David Weaver sits down with entrepreneurs and business leaders to learn more about what makes them tick, from personal hobbies to failures to philosophies.
The episode is available on Apple Podcasts and Spotify.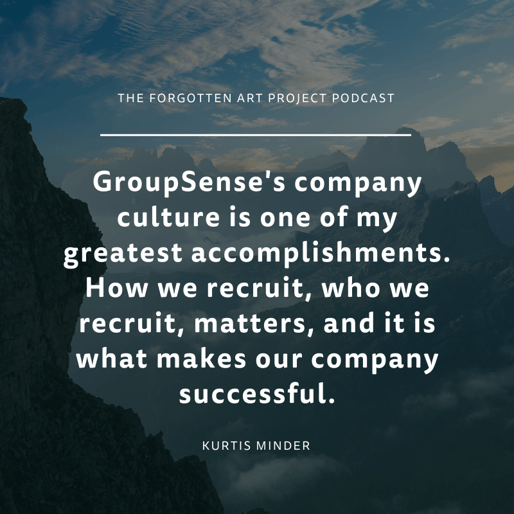 ---
About David Weaver


David Weaver has over 15 years of experience coaching and training individuals, small groups, and companies. ​
​He helps business owners and leaders create a life and business they love by teaching them how to drastically reduce stress, intentionally design their life to align with their highest values, identify the most important thing to move the business forward, and create a fulfilling quality of life. Learn more >
About Kurtis Minder

Kurtis Minder is the CEO and co-founder of GroupSense, a leading provider in Digital Risk solutions. Kurtis built a robust cyber reconnaissance operation protecting some of the largest enterprises and government organizations.
Kurtis has been the lead negotiator at GroupSense for ransomware response cases. He has successfully navigated and negotiated some of the largest ransomware, breach, and data extortion cases world-wide.
With over 20 years in the information security industry, Kurtis brings a unique blend of technical, sales and executive acumen.
About GroupSense
Unlike generic cyber-intelligence vendors, GroupSense uses a combination of automated and human reconnaissance to create finished intelligence that is tailored to each customer's digital risk footprint.
This enables customers to immediately use GroupSense's intelligence to reduce risk, without requiring any additional processing or management by overstretched security and fraud-prevention teams.
GroupSense is based in Arlington, VA., with a growing customer base that includes large enterprises, state and municipal governments, law enforcement agencies, and more.