Kurtis Minder, GroupSense CEO, will speak at a CHIME focus session with Mac McMillan, CynergisTek CEO on Monday March 7th. Kurtis and Mac will have an active discussion around the sophistication of cyberattacks affecting healthcare institutions across the country and around the globe.
There is a growing digital pandemic on healthcare organizations. More than 93% of healthcare organizations experienced a data breach in the past three years*. In 2020, healthcare attacks involved the theft or exposure of the protected health information of at least 18,069,012 patients*.
2021 was unprecedented when it comes to the level and sophistication of cyberattacks affecting healthcare institutions across the country and around the globe. Whether it's the number of medical records exposed (considering the top five breaches of 2021 alone accounted for 15 million records) or the disruptive attacks that not only impacted business and made fighting the ongoing pandemic more difficult, eventually cybercrime affected patient safety and patient outcomes, even mortality. The year also ended with a bang to remind us that our supply chain is very much a part of our attack footprint and our extended responsibility.
Kurtis and Mac's focus session will provide an explanation of the current cybersecurity environment and what healthcare executives need to know to be more successful at protecting their institutions and the people they serve. Kurtis and Mac will discuss what it means to prepare, rehearse, and validate.
Healthcare organizations need to change how they approach cybersecurity. The reactive, defensive paradigm of the past is leaving too many organizations waiting to get hit. Don't miss their discussion at CHIME.
---
About Mac Mcmillan, CEO at CynergisTek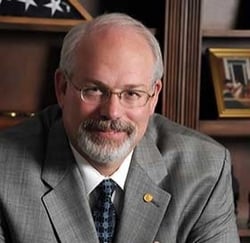 Forty plus years experience in Senior Executive positions and Board member focused on security and risk management in both Government and Industry sectors. Retired, Co-Founder and CEO of CynergisTek, Inc. an information a security services firm specializing in consulting and managed privacy, security and audit services for Healthcare. Former Director of Security for two Defense Agencies (OSIA/DTRA) and retired Marine officer. Serving Chair of the HIMSS Privacy & Security Policy Task Force, Member of several healthcare IT periodical editorial boards, writer and national level speaker on data security in healthcare. A HIMSS Fellow, an Excellence in Government Fellow DoD, recipient of the CHIME Foundation Industry Leader Award, the Malcolm Baldrige Foundation Award for Leadership Excellence in Cybersecurity and the HIMSS John A Page Distinguished Fellows Service Award. Learn more about CynergisTek >
About Kurtis Minder, CEO at GroupSense

Kurtis Minder is the CEO and co-founder of GroupSense, a leading provider in Digital Risk solutions. Kurtis built a robust cyber reconnaissance operation protecting some of the largest enterprises and government organizations.
Kurtis has been the lead negotiator at GroupSense for ransomware response cases. He has successfully navigated and negotiated some of the largest ransomware, breach, and data extortion cases world-wide.
With over 20 years in the information security industry, Kurtis brings a unique blend of technical, sales and executive acumen.