After a two-year hiatus, RSA Conference returned to the Moscone Center in San Francisco for another exciting week. GroupSense's CEO, Kurtis Minder, and Director of Intelligence Operations, Bryce-Webster Jacobsen, presented their talk, "Dissecting the Ransomware Killchain: Why Companies Need It," to a packed audience. Kurtis was also interviewed by Jax S. of Outpost Gray.
Dissecting the Ransomware Killchain: Why Companies Need It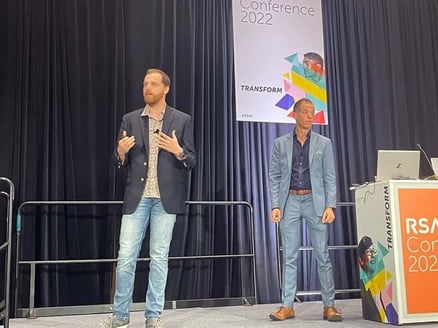 Lockheed Martin's cyber killchain is nothing new in the security industry, and neither is ransomware for that matter. But most ransomware attacks don't follow the killchain model like other types of cyber attacks. During their session, Kurtis and Bryce discussed how organizations can dissect ransomware attacks with an adapted killchain model, which ultimately will help organizations create informed ransomware response plans.
For more information on GroupSense's Ransomware Killchain, visit this SC Media article with a deeper dive, and take a look at the diagram below.

Livestream with Outpost Gray
During the conference, Kurtis got a chance to reconnect with Jax of Outpost Gray. During the interview, Kurtis gave a short overview of the ransomware killchain and its importance, the future of ransomware, and how to decrease the chances of making threat actor groups "famous", and the zero-trust hype in the security community. Check out the full stream on Jax's YouTube channel, Outpost Gray.
"Ransomware is a bit like the pandemic. In the beginning, very few people knew someone affected by Covid—but then, all of the sudden, everyone did." -Kurtis Minder
Ransomware is becoming more tangible, and the best way to combat this is through education and individual action. Take a look at the actions you can take to become ransomware ready here.
About GroupSense
Unlike generic cyber-intelligence vendors, GroupSense uses a combination of automated and human reconnaissance to create finished intelligence that is tailored to each customer's digital risk footprint.
This enables customers to immediately use GroupSense's intelligence to reduce risk, without requiring any additional processing or management by overstretched security and fraud-prevention teams.
GroupSense is based in Arlington, VA., with a growing customer base that includes large enterprises, state and municipal governments, law enforcement agencies, and more.