The world's most popular messaging and social media apps are rolling out new privacy features allowing users to send content that will self-delete after a short time. On November 5, WhatsApp announced "disappearing messages" that are automatically erased after a week; on November 12, WhatsApp's parent company Facebook introduced "vanish mode" for Messenger and Instagram, seamlessly deleting messages after users leave their chat. And on November 17, Twitter launched "Fleets," messages with 24-hour lifespans.
While self-deleting messages is not a new concept (it was popularized by messaging app Snapchat's release in 2011), the feature has increasingly gained adoption with other apps, including Telegram, Viber, and others. In 2016 and 2017, Instagram and Facebook introduced "Stories," allowing the broadcasting of content that disappears after 24 hours -- a design that Twitter's Fleets closely imitates. Nevertheless, the announcements by Facebook and Twitter are significant in that ephemeral private communications are now available to a much larger userbase and represents an acknowledgement by these companies of consumers' growing needs for privacy.
These features are a savvy business move to keep customers engaged on their platforms and are also a win for users wishing to have more control over their content. However, security concerns still exist with self-deleting messages that in some circumstances could allow threat actors to take advantage of users' false sense of privacy; moreover, while GroupSense embraces these new features as a logical evolution, we also recognize the limits they place on security researchers' work in tracking the bad guys. We discuss both concerns below.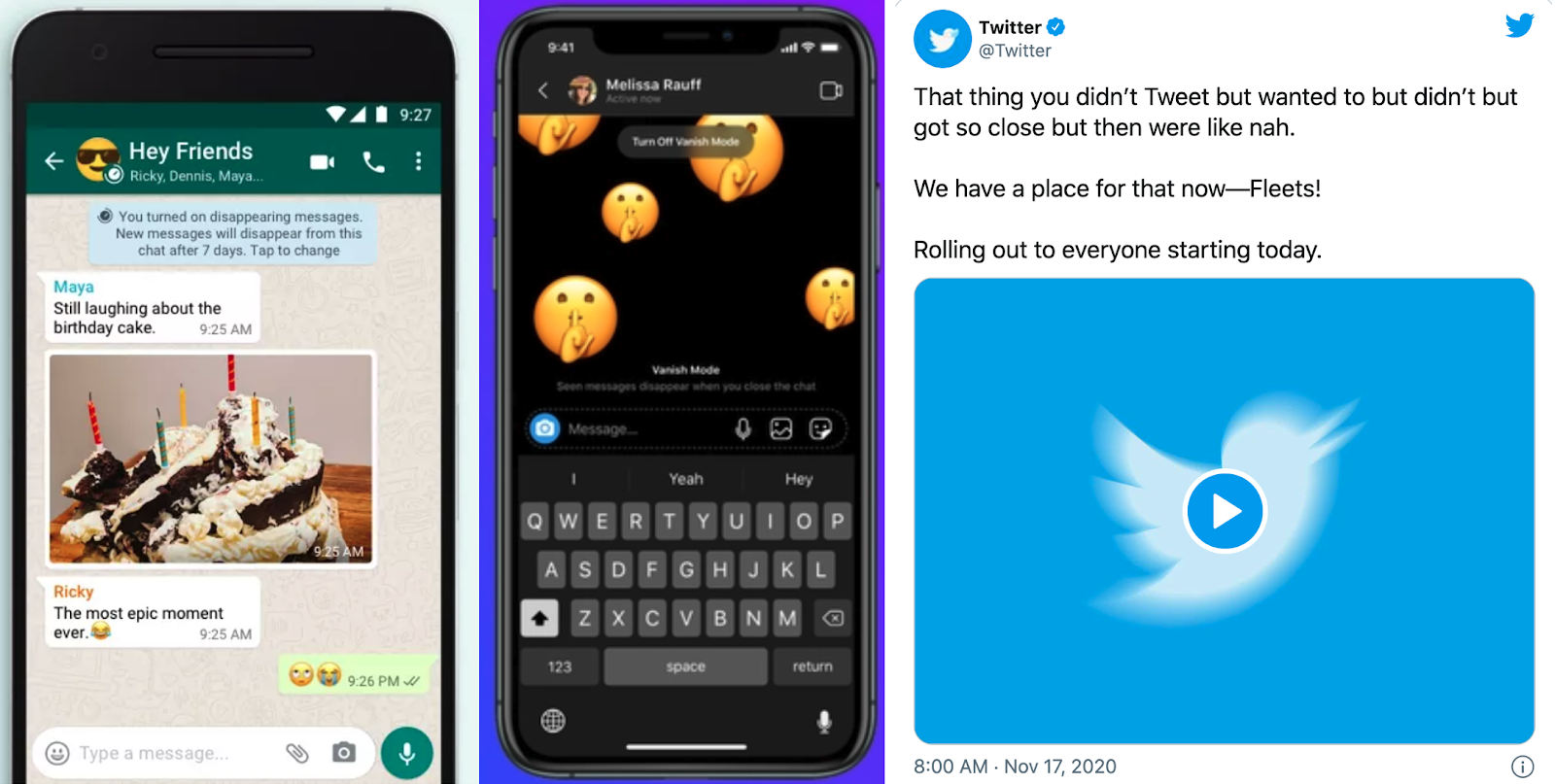 Figure 1: Examples of self-deleting messages by WhatsApp (left) and Instagram (center); Twitter's global launch of Fleets (right). Sources: WhatsApp, Facebook, Twitter
Content Shared Via Self-Deleted Messages Could Still Be Accessible
Media auto-downloads: Messages that self-erase could lull users into a false sense of privacy, thinking that sensitive content shared via these apps is inaccessible after the apps delete them. But there are scenarios that could allow threat actors to still retrieve this data. For example, by default, media received via WhatsApp is automatically downloaded to the phone. Even if WhatsApp's disappearing messages feature is enabled, media content shared via chat is stored on the phone and is accessible to anyone with access to the phone, whether gained by exploiting a vulnerability or through social engineering. The auto-download feature can be disabled in WhatsApp Settings > Data and Storage Usage.
Content uploaded to the cloud increases exposure: As we discussed in our October 2019 blog post, The 5 Reasons WhatsApp Could be a National Security Risk, media downloaded by WhatsApp and other messaging apps often does not just remain on the phone but is also automatically uploaded to the cloud--this further disseminates content across platforms, increasing the footprint of the data that can potentially be accessed by a threat actor.
Taking a photo or screenshot of a message is still an option: Facebook Messenger and Instagram offer an interesting new feature for users in "vanish mode:" the apps send a notification if the other party takes a screenshot of the chat. We have not seen WhatsApp announce a similar feature. Moreover, a recipient could still forward a message to another person before it disappears or take a photo with a camera or other device.
Little transparency in the way these social media companies handle data: The same concerns over the sharing of metadata by social media companies with third parties and governments still holds, and may be exacerbated if users feel more comfortable sharing sensitive data via deleted messages that they may not have shared previously. For more information on concerns related to the sharing of metadata with third parties, see our Oct 2019 blog and WhatsApp paper.
Self-Deleting Messages Offer Increased Obfuscation for Threat Actors
Social engineering and malware distribution: Self-deleting messages could be an attractive vector for social engineering attacks or for disseminating malware, as threat actors leverage the added bonus of not having forensic evidence of the conversation stored for researchers to examine. The benefits are not limited to threat actors: fraudsters, harassers, and bullies all benefit by conveying messaging with the belief that it will not be used as evidence against them later.
Difficulty in moderating content and potential misuse in information operations: GroupSense is also concerned with the abuse of ephemeral messaging to spread inflammatory content and disinformation, as it may embolden some individuals to broadcast messages knowing that accountability will be less likely without a record. Although Twitter states that Fleets must follow the same Twitter rules and offers an option for viewers to report a Fleet, GroupSense observed that the sheer volume of disinformation on Twitter often does not get reported and taken down for days, and in some cases longer. Information operation actors may also seek to take advantage of self-deleting messages. Imagine, for example, a deepfake sent via Fleets that shows a political candidate or a C-level executive saying or doing something detrimental; while the message may be deleted before researchers can disprove its authenticity, its repercussions may be immediate.
GroupSense Can Provide Solutions
The way we communicate is constantly evolving and Facebook and Twitter's recent rollouts are an anticipated logical next step to a trend begun by Snapchat nearly a decade ago. GroupSense recognizes the importance of continually adapting to the shifting landscape and we're developing exciting new changes in the way we provide content to our customers. We look forward to rolling those out soon. If you're interested in learning more about GroupSense's services, contact us at +1-877-469-7226, or by filling out our contact form.