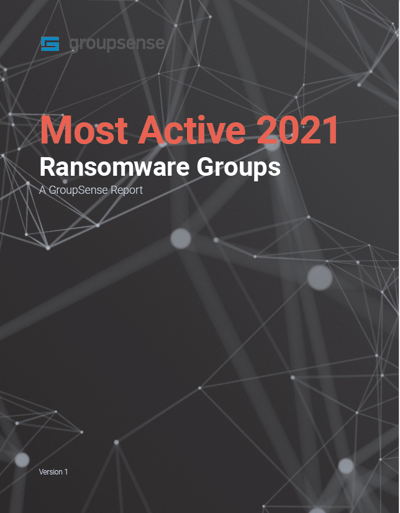 2021 was another pivotal year for ransomware attacks. Cybercrime was expected to hit $6 trillion and is expected to grow by 15% annually during the next five years.
The list of ransomware groups is long, with some of the most famous headquartered in countries with lackluster cyber laws. The list increasingly changes, with ransomware groups such as REvil and DarkSide being among the most well-known (unfortunately for them) after making headlines for their 2021 cyber attacks. The FBI is currently maintaining a list of ransomware groups numbering in the hundreds.
Download our report on the most active 2021 ransomware groups to learn:
The Evolution of Ransomware Syndicates
Most Active Ransomware Groups in 2021
Infamous Ransomware Attacks in 2021
---
Facing a Ransomware threat?
Call in a GroupSense ransomware negotiator.
Threat actors have not only expanded, but adopted new business models. They have service departments and quick response times. However, they are still criminals out to steal your hard-earned money.
Our team of expert negotiators help you control the situation and navigate the negotiation to deliver a best result for your organization. We have extensive experience resolving ransomware attacks, including arranging the destruction of exfiltrated (stolen) data to reduce the damage caused by ransomware/data theft attacks. We provide comprehensive services for evaluating and confirming ransomware attacks and conducting post-attack remediation activities.
Learn about our ransomware negotiation services >
---
Are You Ransomware Ready?
GroupSense has been on the front lines with small and large organizations alike, performing ransomware negotiations or assisting with their recovery from a ransomware attack.
Our R3S solution is focused on making sure your organization is prepared for a ransomware attack and, if need be, can respond quickly and decisively.
With GroupSense's Ransomware Response Readiness Solution (R3S) you get:
24/7 on-call incident support
Crypto settlements
Ransomware strategy and playbook